INSIDE MITSUBISHI: 2018 WARRANTY GUIDE
A new car warranty is a guarantee that the car manufacturer you are purchasing from will stand behind its manufactured goods or overhaul some malfunctions or defects over a specific span of time. The warranty will pay for the replacements or repairs of what is covered throughout the warranty period.
Mitsubishi warranties are anchored by a 10-year/100,000-mile Powertrain Limited Warranty. That's 5 years or 40,000 more than the competition. Along with Powertrain Limited Warranty is a 5-year roadside assistance plan that's there if you need it. The Powertrain Limited Warranty applies to original owners of new, retailed Mitsubishi models purchased from an authorized Mitsubishi Dealer.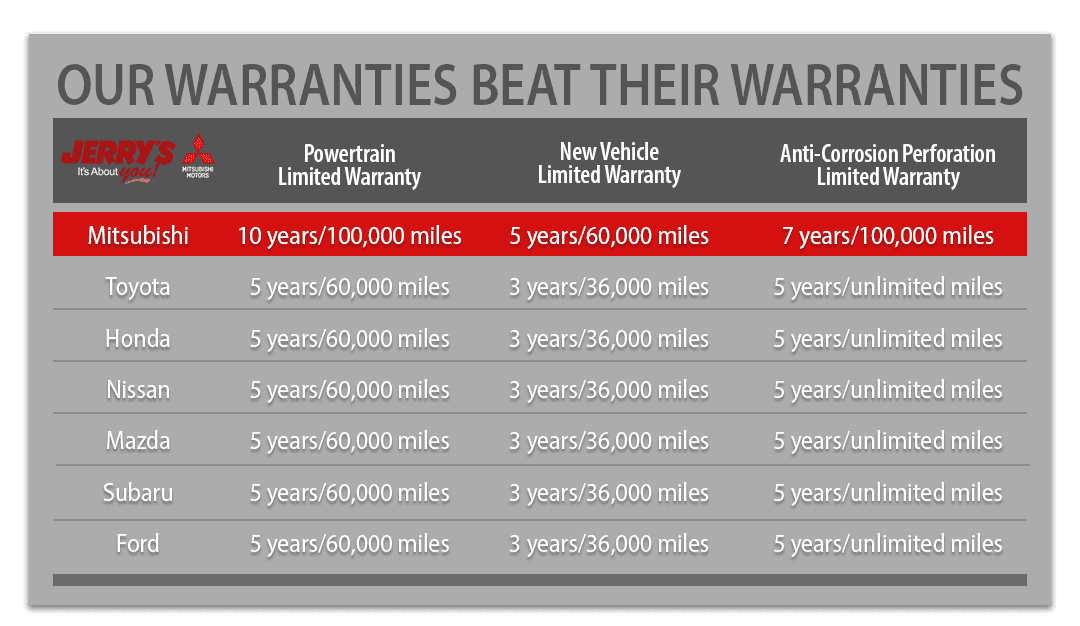 "Mitsubishi Confidence is your assurance that your new Mitsubishi will be there for you today, tomorrow and long into the future."
As a new Mitsubishi owner you'll be covered for 10 years or 100,000 miles (For most models). If you're an owner of a Lancer Evolution, Lancer Ralliart and i-MiEV, you're covered for 5 years. Our Powertrain Limited Warranty covers:
-Repairs or replacement of select engine
-Transmission and transaxle powertrain components originally manufactured and installed by Mitsubishi that may become defective under normal use and maintenance.
-Authorized Mitsubishi powertrain components installed by an authorized Mitsubishi dealer
If you are purchasing a Pre-Owned Mitsubishi that it still under warranty, you'll be receiving the balance of the New Vehicle Limited Warranty. This warranty covers all of the parts in your new Mitsubishi for 5 years or 60,000 miles (this excludes your battery, tires, air conditioner refrigerant, light bulbs and select entertainment/navigation system components. These parts carry their own warranty.)
As a Mitsubishi owner, you'll also receive our 7 year/100,000-mile Anti Corrosion/Perforation Limited Warranty. This covers perforation in outer body sheet metal panels due to corrosion during normal use. This is covered on every new Mitsubishi, including Lancer Evolution, Railiart and i-MiEV models. (Coverage excludes corrosion due to accidents, abuse, abnormal use, damage, vehicle alterations or contact with corrosive material such as sand, salt, hail, stones, chemical, acids or fertilizers.)
There's more…
Every new Mitsubishi also comes with Restraint System coverage for seat belt and airbags of 5 years or 60,000 miles under the New Vehicle Limited Warranty, along with 12 months/12,000 miles coverage for adjustments; if required as a result of a manufacturing defect.
2017 Warranty Details
2016 Warranty Details
2015 Warranty Details
2014 Warranty Details
Lancer Evolution and Ralliart Warranty Details
i-MiEV Warranty Details
There When You Need Us for a Full 5 Years…
Along with our commitment in ensuring we keep your vehicle running, our Emergency Roadside Assistance is there for you should you ever need it. Call toll-free 24/7 at 1-888-MITSU2018 (1-888-648-7820). As a Mitsubishi owner, you'll have access to 24-hour emergency Roadside Assistance for five full years (3 years/36,000 miles for Mitsubishi i-MiEV). Regardless of mileage, we got ya covered.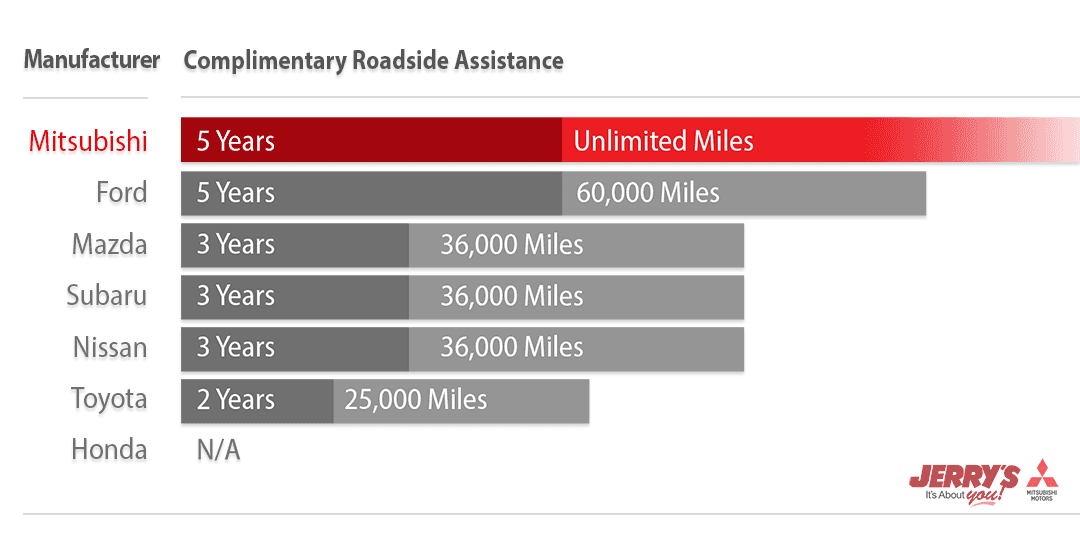 Mitsubishi Roadside Assistance Plan
Here are the covered services that you'll get under our Roadside Assistance plan:
A tow to the nearest Mitsubishi dealer or other approved service if your vehicle isn't drivable
Emergency fuel and fluid delivery
Jump starts
Exchange of flat tire with the inflated spare
Lockout assistance
Mechanical "First-Aid" for minor roadside repairs or adjustments
Trip Interruption
If you are more than 150 miles from home and your vehicle is disable due to a warrantable condition and has to be kept overnight for repairs, Mitsubishi's Roadside Assistance Plan will reimburse for reasonable documented expenses for meals, lodging and transportation up to $175.00 per day for a maximum of three days. In order to be eligible for this benefit, you must obtain prior authorization from the Roadside Assistance Provider.
Concierge Services – Your Personal Assistant
In case of delays associated with a roadside breakdown, we will arrange to make or change your reservation. We'll notify your family member or colleagues of the delay, per your request. We'll even call a business associate to cancel a meeting or take care of any other necessary details to help ease any inconvenience if you'd like. If need be, overnight accommodations can be arranged at a hotel or motel, or existing reservations can be changed as needed.
We will help you find telephone number of tourist bureaus nationwide, and we'll transfer you to the bureau in the area of your choice to receive a wide range of information regarding that are. If you need to locate the nearest ATM using your specified network system according to the area code and prefix from which you call, we'll do that for you too.
Lost your Roadside Assistance card? Download a replacement card here.
Or…download the FREE ROADSIDE ASSISTANCE APP for Iphone or Android.
Explore the following link for Roadside Assistance details that are relevant to you Mitsubishi's model year.
2018 Mitsubishi Roadside Assistance Details
2017 Mitsubishi Roadside Assistance Details
2016 Mitsubishi Roadside Assistance Details
Lancer Evolution and Ralliart Roadside Assistance Details
i-MiEV Roadside Assistance Details